Alrighty, let's make good use of the request box~
Goddess of the Full Moon, Tsukuyomi, and Scarlet Witch, CoCo are both very powerful Vanguards, but betwen them, who's the strongest? Onwards as I compare the 2 Vanguards, the decks they reside in, and their effectiveness in order to find which really is the strongest Vanguard.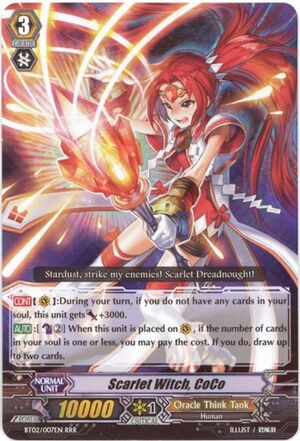 So. What do these cards and their decks have to offer to the game?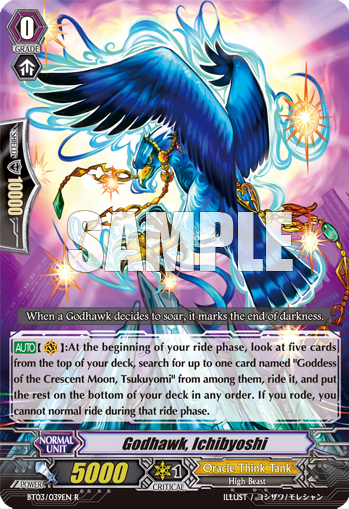 Tsukuyomi is a first generation Ride Chain, and the most consistent one at that. This means that, ride for ride, you have far more consistency than other deck. This also means that you get to abuse a mechanic that just makes Oracle Think Tank so cool, Divination. Basically, it's stacking, but not cheating. I know right? Her skill can allow you to stack upwards 15 cards at the bottom of your deck in any order you choose, so with a bit of decision making, you can essentially turn those last 15 cards into huge rushes in the form of Double Triggers. In order to reach this stack faster, Tsukuyomi's deck will generally include many ways to Soul Charge the deck, draw more cards, cycle through them, and Tsukuyomi's own skill helps out. Speaking of which, her skill is probably one of the better draw engines Oracle Think Tank, heck, probably most of the game can look up to. For not only gaining 2 cards in raw advantage, she also cycles out any lackluster cards, essentially getting the best you could from that +2 move. As a requirement however, she needs 6 Soul to activate this skill. This means that even after you ride up successfully, you have to gain one more Soul to actually get the absolute best benefits from her...which isn't really hard. From Red Eyes forcing pressure, to Psychic Bird cycling your deck, to just flat out re-riding Tsukuyomi, it's very easy to start gaining the benefits of her skill.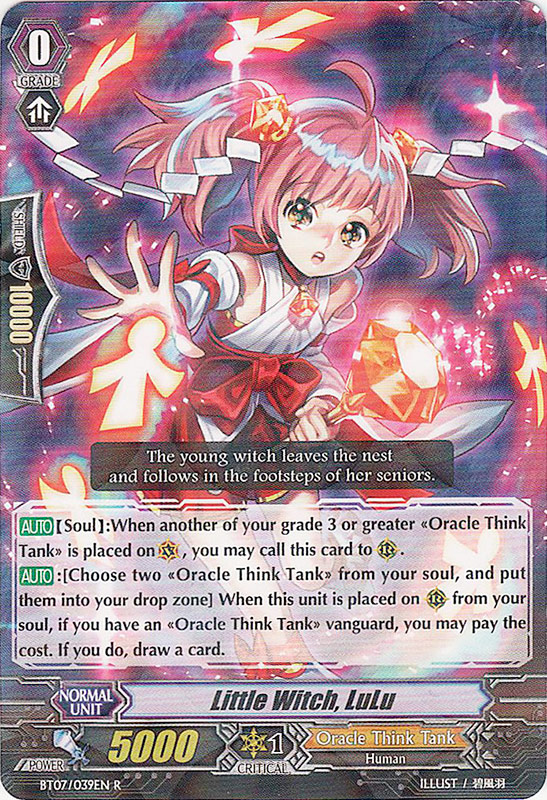 Scarlet Witch, CoCo plays the beatdown route of Oracle Think Tank. Comboed with Little Witch, Lulu, CoCo can grab 3 draws out of the Grade 3 ride with the cost of 2 Counter-Blasts. Not only that, but on the pretty big chance that you draw something that helps with field development, that can easily lead to pretty big mid game pushes that can lead to a pretty big lead in damage or card advantage later on. Not only that, but you can also re-ride her for another +1 in raw advantage, equaling to as much as 4 cards more than a deck without a real advantage engine can normally reach. Throw in the rather lax demands on Counter-Blasting if you don't want to re-ride, and the deck does an especially good job at beating away with Meteo-Break Wizard.
So comparison time. First, a big one, consistency.
Tsukuyomi takes this one easily. Also considering she doesn't need to ride up turn per turn, or at least it's not as punishing to not do so, and that her ride chain does nothing but add on consistency to things, she does the job pretty well. Throw in that CoCo can only run 4 copies to get to that power draw for midgame shenanigans vs Tsukuyomi having a greater chance to get one of 4 Luck Birds or Red Eyes or another Grade 3 to load up the soul and use her skill, and you basically have a card that fundamentally outclasses CoCo in practically every way. Even her skill allows for more consistencies. First of all, you've cycled 4 cards closer to that extremely dangerous stack, second, you've cycled through 4 cards in your hand to cherrypick what you get left with vs CoCo just throwing a lot of stuff at you.
How about raw advantage?
I think I've used this chart enough to not need to explain it anymore.
CoCo
Turn 1: Draw (7), Ride (6)
Turn 2: Draw (7), Ride (6), Drive Check (7)
Turn 3: Draw (8), Ride (7), Lulu skill (9), CoCo skill (11), Twin Drive (13)
Extra CoCo ride (+1)
Possible cards:14
Tsukuyomi
Turn 1: Draw (7), Ride (6)
Turn 2: Draw (7), Ride (6), Drive Check (7)
Turn 3: Draw (8), Ride (7), Twin Drive (9)
Superior ride (+3)
Skill (+2)
Possible cards:14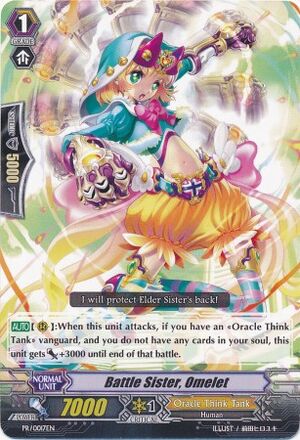 Basically, both have the same possible advantage, with CoCo pulling off the higher average advantage output, but with the least amount of effect on the gamestate. Trading for that, she lacks the 11K defense to save cards. Overall, pretty even here.
Power's important right?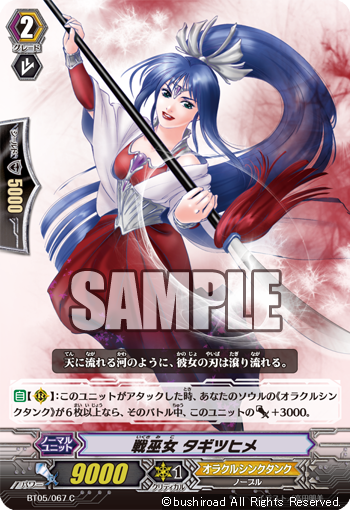 And it is. I'll start with this, a Tsukuyomi
deck
has more power than CoCo due to the existence of Tagitsuhime.
CoCo beats Tsukuyomi in outright raw attack power. 11K vs 13K, you'll need Milk in order for Tsukuyomi to reach numbers that CoCo has no issues reaching ever. However though, in those final stages of the match, Tsukuyomi far outpaces CoCo. While CoCo may be forcing out 5K shield more with its power bump, Tsukuyomi is setting up for a double trigger, essentially pushing Tsukuyomi's power (with a 7K boost) up to as high as 28K, while her rearguards also gain another 5K and the ability to break shield stage 3 (meaning they would force out 15K guard when they attack) when that stack is reached. Safe to say, or rather, kinda dangerous for people facing Tsukuyomi, Tsukuyomi has far more power than CoCo. God have mercy on the 10K Vanguard who ran out of Perfect Guards getting slammed by a 26K 2 crit Silent Tom. We also have to consider defensive advantages, as the rise of 12K attackers means the rise in access to a 20K column, meaning CoCo is put at more risk than Tsukuyomi much more of the time.
Verdict: Tsukuyomi wins.
And so, with the superior consistency and power, I declare Tsukuyomi being the superior between the 2 cards and decktypes. Post below on your views, any arguments you think I may have missed, and your own verdicts of this match up.
Well, this was actually kinda nice. Now, just got to wait until someone notices the Request Box on the side.