Alright, special little blogpost for today. Instead of 1 decklist to be posted, 2 will be instead.
One of the newer decks to hit the scene as of BT08. The Raptor series is a 3rd generation ride chain sporting one of the most stable ride chain skill out of all of them. While they aren't the same as regular Tachikaze's retire for better stats all around, Raptor Colonel's ability to
easily
break 30K power makes the deck an insane threat to anyone not ready for it.
X1 Military Dragon, Raptor Soldier
X4 Ancient Dragon, Dinodile
X4 Black Cannon Tiger
X4 Dragon Bird, Fire Pteryx
X4 Ironclad Dragon, Steelsaurus
X4 Archbird
X4 Military Dragon, Raptor Sergeant
X3 Sonic Noa
X4 Winged Dragon, Slashptero
X4 Military Dragon, Raptor Captain
X2 Ravenous Dragon, Megarex
X4 Winged Dragon, Beamptero

X3 Destruction Dragon, Dark Rex
X4 Military Dragon, Raptor Colonel
X1 Savage Warchief
As our starter, Military Dragon, Raptor Soldier is a generation 3 ride chain starter so we basically already all know what it does. Along with this, the deck uses a 12 Crit setup in order to maintain the most momentum as far as damage goes, meaning that the deck will always have an offensive edge even despite its rather simplistic setup. This way, it best allows for the deck to line the opponent up into the deck's massive late game danger zone.

The combo cards here are the Winged Dragons, Slashptero and Beamptero, who works with either Dark Rex's or Raptor Colonel's Limit Break. With Dark Rex, when combined with another Winged Dragon, can recreate a stage 3 Vanguard attack to force out more cards out of the opponent. With Colonel, the Winged Dragons allow for power to be distributed to the Rear-Guard column as well as the Vanguard column, which if the opponent is without Perfect Guards, can easily size up to enough power to end the match immediately. Unlike like their role in the Tyrant Deathrex build, the Winged Dragons here don't need nearly as much setup to remain optimal. While one would need to maintain a column of them if they wanted to use them in conjunction with Raptor Colonel alone, Dark Rex on its own or the all out blitz made possible by combining both Limit Breaks means that simply having at least 2 Winged Dragons on the field at a time is enough to be a massive threat to the opponent.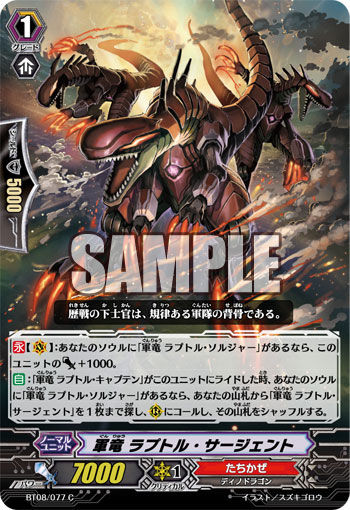 While only playing support, Dark Rex allows the deck to function far smoother than normal. Simply by attacking with Colonel in the late game while the player knows the opponent has a Perfect Guard, the opponent is pushed into a terrible situation. Each time Raptor Colonel attacks, the opponent is forced to decide whether or not they want to guard the attack regularly, or drop their Perfect Guard. If the former, they are burning resources at 15K shield for that attack alone, and most likely far more to deal with the Rear-Guards, meaning that they're forced into a deficit of shielding and one card that they cannot part with very easily, and more than likely losing hand power far faster. On top of this, the player can simply Ride into Dark Rex whenever they feel the opponent's shielding is low enough, which if timed correctly, can easily crush an opponent's dwindling resources. On the other hand, the opponent can Perfect Guard Raptor Colonel, but they will still face the exact same problem of Dark Rex swinging once more at them. The player also has the option to save Dark Rex for the next turn over, since now that the opponent no longer has a Perfect Guard, Raptor Colonel's monstrous +30K attack when it Limit Breaks has the perfect opportunity to crush the opponent, on top of the Dark Rex re-stand. No matter how the opponent guards in this situation, they will lose out in the long run. Of course, the opponent can always not guard if they were at, say, 4 damage, but with the deck running 12 Crits, they'd immediately lose half the time in that gamble, and are now at 5 damage, meaning that they must now deal with the full force of both the Vanguard and the Rear-Guards in the following turn(s).
Finally, the main boss of the deck. Sitting at 11K defense with its Grade 2 form in the soul, Raptor Colonel plays a far more interesting role of a final turn finisher than most others of its kind. Unlike for example, Raging Form Dragon, a finisher that can fire off with little risk of completely burning out because its output balances out its cost, this Raptor Colonel would lose out in card advantage if one were to use its skill multiple times. Because of this, as explained through Dark Rex, the threat of Colonel's assault is your best weapon.
When the opponent is at 5 damage, or isn't willing to make bets at 4, Colonel alone will already have set up its own '
pressure
' system. Unlike regular pressure units, which force the opponent into a midgame dilemma of allowing their generally powerful skills through or burning through excess amounts of guard, Colonel forces them to decide on their guarding efficiency. In theory, forcing the opponent to decide between Perfect Guards and burn as low as '5'K shield, or guard regularly and exhaust triple the amount of shielding is easily already enough to drive the opponent into the ground if the Late Game is allowed to run on, which if assisted by virtually a free column from the Ride Chain or is further enforced by Dark Rex, which allows you to act on whatever path the pressure forces the opponent to take, creates a situation such that just getting to the late game is enough to easily take over the match.
Despite the apparent threat of just being in the late game, there's still the matter of actually getting to the late game in the first place. The problem here is how inconsistent Colonel ends up becoming in this crucial area.
There are only 2 midgame gambits that the deck actually has access to; the Ride Chain, and Dark Rex. Unfortunately, both are often beyond the player. While the latter isn't nearly a problem while facing off 10K Vanguards, there's only one booster that should really allow access to 18K columns; Sonic Noa. Now, Savage Warchief makes an appearance every once in a while which
easily
allows for such columns, but due to the requirement of the Ride Chain, absolutely not wanting to miss out on
Perfect Guards
, and the emphasis on making sure that Dark Rex is as threatening as it could possibly be, building a strategy around Dark Rex's secondary skill is just not much of an option.
The former however, does allow for a few more options. Even if it only has about a 1/4-1/3 chance of properly going off, the fact remains that it does practically give the player a free 16K column. Much like Deathrex's 15K attack, the free output onto the field can easily lead to advantageous plays later down the road.
At this point, it should be obvious that playing around the opponent's Perfect Guards is paramount to Colonel's success. More than anything, if there's one thing you can get out of
Perfect Memory
, you absolutely MUST focus on the opponent's Perfect Guards if you see them entering your opponent's hand. Along with this, you must be fully aware of how many Perfect Guards you must have expected to have seen by some point in the fight, as Colonel's pressure only works as long as the opponent has specifically 1 Perfect Guard, not 2. What may look like your opponent losing out on their Perfect Guard for you to assault them next turn may just in fact be the opponent using it since they have no reason not to at that point, and if you can't learn to expect when this is the case,
especially
if at some point in the match it was in fact revealed to you during, say, a Drive Check, the resulting catastrophe of a hole in your field that amounted to absolutely nothing can end up costing you dearly.
If you can work around the opponent's Perfect Guards, and you've driven them to the late game with even only a moderately sizable hand, then the game is practically already over. From that point on, it's simply a matter of watching your opponent's hand and knowing exactly when it will crack. This is Dark Rex's role in the deck, so even if you never do get a chance to actually use Raptor Colonel, Dark Rex's ability to crash down on the opponent's hand (especially in tandem with the Winged Dragons) makes Colonel's threat against the opponent no matter what action they take more than just a threat, but an all imposing force waiting for the moment their hand falls just short.